To add value to clients in every transaction by maintaining independence and upholding ethics
Anthony Mannes is a Coleambally local. Having worked across eastern Australia as a stock and station agent, real estate agent, and machinery auctioneer and valuer, Anthony and his family once again call the Riverina home.
Using the strength of his experience, Anthony has formed Mannes Agencies to provide a new local option for primary producers in the Riverina.
With professional, independent and ethical representation, Anthony adds value to every transaction. He provides the right advice and achieves the best results for your farming business.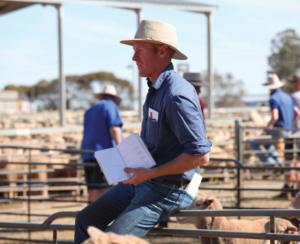 As a licensed stock and station agent, real estate agent and accomplished auctioneer, Anthony can manage all town, country and commercial property transactions.

Mannes Agencies can also help your business in managing sales of water entitlements and allocations.

Mannes Agencies can broker sales and purchases of all water allocation and entitlement classes including:
Permanent Entitlement Sales of surface water, groundwater and supplementary.

Temporary Allocation Sales of surface water, groundwater and supplementary.

Inter-valley transfers of allocation.

Delivery Entitlements.

Forward sales and purchases, leases and carryover space/parking.
We partner with other brokerage firms including Water Exchange to ensure access to the most beneficial opportunities for our clients.  Please contact us directly to discuss your specific requirements.
With access to all major saleyard markets, Mannes Agencies facilitates livestock selling and buying. Anthony attends the Griffith Sheep and Lamb Market each week to represent his clients' stock.

Mannes Agencies also coordinates paddock sales, forward contracts, direct to processor (over the hooks) sales and private sales.

As an accredited Auctions Plus assessor, Mannes Agencies provides assessments for both sheep and cattle to ensure your livestock meets the market that will achieve the highest realisation.

MACHINERY SALES AND VALUATIONS
As a practiced auctioneer and with over ten years experience as a plant and machinery valuer, Anthony ensures sales of your surplus machinery will result in the highest possible price.

Whether it's a traditional clearing sale or auction, consignment sale or online auction, Mannes Agencies will work with you to develop a strategy that will get the best outcome. We invite you to contact us about new options for the sale of your surplus equipment.